Abernathy Finish Master has the answers, from bringing new life to your current finishes or creating a brand new look with a change of color and hardware. 
Use your existing cabinets as the foundation for an ENTIRELY NEW LOOK by refacing with new doors, drawer fronts, hardware, and any new color you wish.
We can modify your current cabinets, islands, crown molding, and light rails creating the room you dreamed of.  Our Master Builders can also create custom pieces to fit any room.
Abernathy is the one to trust with your furniture refinishing. I was overwhelmingly impressed with the final outcome and now what I have is the finest piece of furniture in my house.

Abernathy finish master was great!! From start to finish they were professional, prompt and most of all did exactly what Ric said they would do when they said they would do it, imagine that?? My kitchen is beautiful, everyone thinks I replaced the cabinets. I highly recommend Abernathy, I definitely would use them again!!

Could not be more pleased with the refinishing of my 26 year old wood kitchen cabinets. They look like new. The staff was professional and very nice.

Abernathy is one of the most professional firms I have dealt with doing residential work. We hired them when another guy tried painting our kitchen cabinets that ended up not knowing what he was doing. Abernathy stepped in right away and took over the job and hit every deadline they set. Their work was beautiful. We then continued to give them not only the kitchen cabinets, but multiple custom built-ins as well as painting individual pieces of furniture. They excelled in everything they did. Their workmanship is the best. We have found their field people as well as the people in the office to be very respectful, courteous, and trustworthy. I would highly recommend this firm.

I couldn't rate Abernathy Finish Master high enough. From our first meeting at their office to the end of the project, the staff at Abernathy conducted themselves in a highly professional and skilled manner. Kim and Rick were terrific to work with. They did everything they could to accomodate our needs and keep us happy. Vern and Martine went that extra mile to make sure that our kitchen came out beautiful. Joe, Paul and Perry did a great job too. All too often, contractors can be a big head ache to work with. You will not have any head aches with Abernathy. They were a pleasure to work with every step of the way. Thanks for making our kitchen gorgeous!!!!!!!!!
We pride ourselves on a proven record of excellence in designing and managing refinishing projects of extreme diversity in Southwest, Florida. No matter the size or the complexity of your project, our experienced professionals here at Abernathy Finish Master will plan, design, construct, and maintain your vision. "If you can dream it, we can bring it to life."
We aren't just any finishing shop. After more than 20 years in business we are well known in Southwest Florida. Starting off as a one man show, we now run a full service refinishing & cabinetry shop in Fort Myers with 17 employees and a growing list of loyal customers. We have the best finishers, artisans, and craftsmen in the area.
Abernathy provides the workmanship, quality, and care that you expect and deserve. Our custom color mixing, matching, and toning department allows us to distinguish ourselves from other competitors. Abernathy Finish Master uses only the highest quality grade finishes from reputable manufactures.
State of the Art Facilities
Our 10,000 sq ft enclosed facility is entirely state of the art, from our equipment: spray booths, prep station, designated finishing area, and custom wood work shop, to our finished enclosed area.
Whether you're a professional designer or a homeowner, our showroom is available for examples of colors, finishes, and wood types. We can custom color match any finish and create a sample to take with you.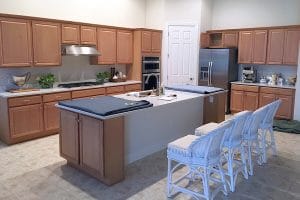 First we'll meet with you to discuss the project.
Once you sign off on the estimate, we'll put you on the schedule.
Then we'll make up a sample of the requested finish.
Once you approve the sample, we'll begin the finishing process.
Our onsite crew will arrive and prep the area to be finished, covering all areas that need protection from over-spray.
The crew will then complete the work you requested in a timely and professional manner.
Upon completion, the on-site crew will de-mask the area, revealing your beautiful new space!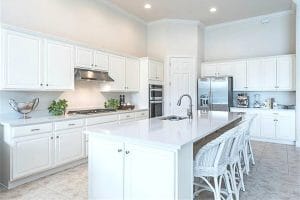 The department head will inspect the work and do a quality check. To ensure your satisfaction he'll ask for your signature of approval.
Once you sign off, you can sit back, relax and enjoy your newly refinished space!
Our workers will never stand or walk on your kitchen counter tops. Our workers are professional and courteous. We don't want to damage your beautiful counters!
We tent off the entire kitchen to ensure no debris or dust travels. We also use a air filtered evacuation system to properly allow air flow.
We refinish all doors and drawers in shop. No need to close off an area of your home for us to paint your doors.We take care of that in our shop and a typical kitchen is refinished in 5-7 business days.
If we do a refinishing project for you we will provide samples and touch up paint/glaze at no additional charge.And much more!!!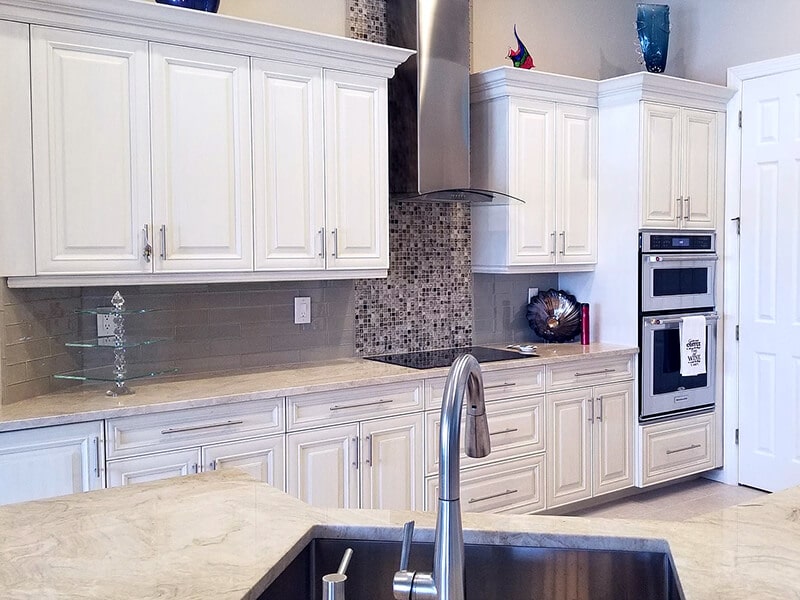 Lacquer vs Latex & Oil Paint
We use lacquer based quality finishing products, not enamel latex or oil paints. Lacquer finishes have been used on high quality cabinetry and furniture for years. Latex paint is water-borne and has residual surfactants which make it susceptible to softening and degradation by moisture over time. Lacquer and varnish's chemical make up allow it be durable, chip resistant, and applied to a moving organic surface. Latex paint is thicker and can tend to build up in corners and grooves leaving areas that are not even. Lacquer is sprayed on in thin coats. This provides a great bond and the ability for the wood to still breath through the finish. The finish looks thinner and professional, more so than a spray-painted paint finish. Lacquer also bonds to itself better then paint bonds to paint. This is helpful when one wants to update a color on a lacquer finish.
Quality Lacquer Finishing
non-yellowing
formaldehyde free
scratch resistant
low voc
withstands cleaning substances
custom color/sheen matching
excellent durability
smooth in appearance and touch
available in 1000+colors!