Our workers will never stand or walk on your kitchen counter tops. Our workers are professional and courteous. We don't want to damage your beautiful counters!
We tent off the entire kitchen to ensure no debris or dust travels. We also use a air filtered evacuation system to properly allow air flow.
We refinish all doors and drawers in shop. No need to close off an area of your home for us to paint your doors.We take care of that in our shop and a typical kitchen is refinished in 5-7 business days.
If we do a refinishing project for you we will provide samples and touch up paint/glaze at no additional charge.And much more!!!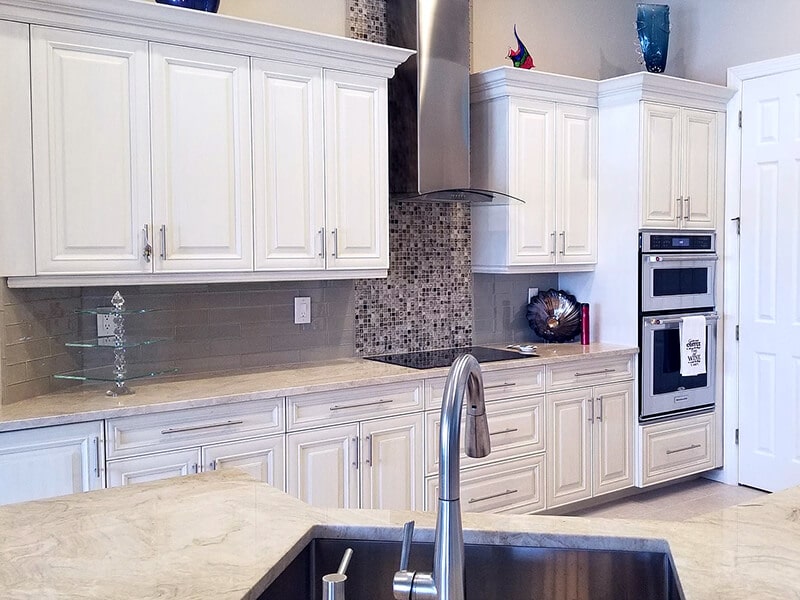 Lacquer vs Latex & Oil Paint
We use lacquer based quality finishing products, not enamel latex or oil paints. Lacquer finishes have been used on high quality cabinetry and furniture for years. Latex paint is water-borne and has residual surfactants which make it susceptible to softening and degradation by moisture over time. Lacquer and varnish's chemical make up allow it be durable, chip resistant, and applied to a moving organic surface. Latex paint is thicker and can tend to build up in corners and grooves leaving areas that are not even. Lacquer is sprayed on in thin coats. This provides a great bond and the ability for the wood to still breath through the finish. The finish looks thinner and professional, more so than a spray-painted paint finish. Lacquer also bonds to itself better then paint bonds to paint. This is helpful when one wants to update a color on a lacquer finish.
Quality Lacquer Finishing
non-yellowing
formaldehyde free
scratch resistant
low voc
withstands cleaning substances
custom color/sheen matching
excellent durability
smooth in appearance and touch
available in 1000+colors!